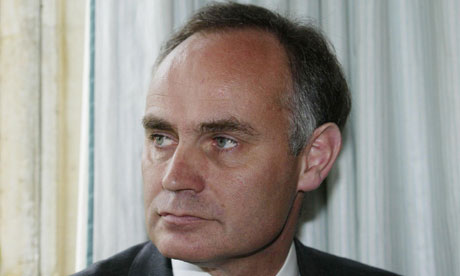 A conservative government minister is to defend the coalition's overhaul of prison policy, comparing it to Churchill's efforts 100 years ago.
Crispin Blunt, parliamentary undersecretary of state at the justice ministry, will defend Ken Clarke's speech of 30 June, in which the justice secretary drew the ire of his own party members for being too liberal and for attacking the "Victorian, 'bang-'em-up'" prison culture of the last two decades.
In May, the prison population in England and Wales reached a record high of 85,201. Clarke said he thought it "ridiculous" numbers had doubled since the last time he was a prisons minister, in 1992.
Blunt, invoking the memory of Churchill, will say: "We are doing this because, as Churchill told the Commons, the first principle of prison reform: "should be to prevent as many people [as possible from] getting there at all'."
In 1910, the then 35-year-old Liberal MP was made home secretary. One of his first acts was to announce that within the year he would reduce by 50,000 the numbers in prison for petty offences.
Clarke's policy is being opposed by the former Tory home secretary, Michael Howard, the tone of whose tenure was summed up in the phrase "prison works". He said he still believed that prison was essential to protect the public.
Yesterday, speaking on the BBC's Daily Politics programme, Howard made his attack more personal, saying the debate about prison sentences had left the justice secretary looking "rather foolish".
Defending his own record first, Howard said: "I'm not in favour of sending everyone to prison – of course not, far from it. The argument that has arisen is that Ken, for goodness knows what reason, has sought to challenge this link between the number of people in prison and the amount of crime, and the facts are totally stacked against him. "He suggested in a speech he made last week that it was more to do with growing prosperity [than] that crime had fallen. The day after he said that, the crime figures came out and showed that, during the worst recession since the 1930s, they had fallen a further 9%, which, I'm afraid, made him look rather foolish."
The justice department is sticking to its guns, and Blunt will spell out a range of measures, including making victims must pay back their victims for the harm they have caused.
He will say: "We want to explore allowing for deductions from the earnings of prisoners in properly paid work to contribute towards services for victims, as a way of making amends for their crimes.
Blunt will also explain his invocation of Churchill: "The quality that shines through Churchill's speech is his humanity towards the offender. And we should not blind ourselves to the fact that in some ways we have made pitifully little progress since 1910," he will say.
"When Churchill proposed his reforms in 1910, he was accused of being "soft" on crime by some who did not actually choose to look at what he had proposed. Some things don't change. Serious offenders who commit serious crimes are still going to go to prison. What the justice secretary called for was a more sensible way of dealing with offenders.
Using language not previously associated with Tories before the formation of the coalition, Blunt also will say: "Today, too many offenders need a great deal of support because of the hand played to them by circumstance. They have suffered abuse: we know that around half of women in prison have experienced domestic violence, and up to a third have been victims of sexual abuse.
"Many are isolated from, or fail to have a support network of, friends and family. They have been failed by absent parents. They have suffered childhood abuse. Many have failed in the education system, abused drugs and alcohol, or ended up homeless. Nearly half of sentenced offenders have emotional wellbeing issues, including mental health illness.
One in three report that they have an accommodation 'need'. These figures are shocking enough. But we believe the problem to be even greater. There is a cycle to crime – from generation to generation. An estimated 160,000 children have a parent in prison; they are three times more likely to engage in antisocial and delinquent behaviour than their peers, whilst 65% of boys with a convicted father go on to offend themselves."
Regarding sentencing, Blunt will say: "It is too easy to appear tough on crime by raising the rhetoric on sentencing and by offering kneejerk responses to awful events ... The quality of debate in this country has simply been too influenced by populist rhetoric. So these attempts to appear ever tougher cannot go on."
He will also reiterate that there will be a move toward restorative justice, saying: "We have a historic opportunity to look at how restorative justice can be introduced into the criminal justice system. I have met with representatives from the Restorative Justice Consortium, and I have asked them to work with my officials on how we could embed restorative justice measures across every phase of the criminal justice process, from pre-trial right through to interventions in prisons to prepare offenders for release.